Eclipse's Inmarsat Ka-Band Connectivity Bundle
MAXIMUM FUNCTIONALITY, MINIMUM IMPACT
Expressly for wide and narrow-body jets, the bundle is a complete yet modular system offering bespoke, high-performance broadband communications worldwide.
Flexible and modular, we can help design a solution that fits your aircraft's unique mission requirements.
The Bundle includes :
Complementary system requirements consultation

All the equipment and STCs you need : Honeywell JetWave Satcom system with the latest router and wireless technologies

Bespoke network and system design (onboard and ground infrastructure)

Eclipse Aero+ Software Suite

Eclipse Satcom Universal Mounting System (SUMS)

Inmarsat Ka-band broadband airtime packages

Certification, installation and integration expertise
It's a full-featured solution from a single source – to help streamline your project.
Available ONLY from Eclipse Group — the airborne connectivity experts — this complete system de-risks complex large-aircraft installations, which often involve multiple stakeholders.
Maintenance and Flight Ops Teams agree, it provides maximum functionality with minimum impact on the aircraft fuselage and offers a complete connectivity solution for VIP and Government wide — and narrow — body aircraft fleets.
Aero+ Software Suite
A complete application solution to answer your needs
VIP and Government aircraft typically serve multiple passengers, all of whom have different phone and internet access requirements. The Aero+ Software Suite offers a broad choice of innovative mobile-friendly apps to help manage and control the inflight network including :
A guaranteed Internet connection for VIP devices
Seamless integration into customer ground networks
Secure, quality VoIP telephone calls
Simple to manage access control
On-board billing functions
Flight Ops teams use a variety of the Aero+ innovative mobile-friendly apps to manage and control inflight networks, offering the highest level of connectivity experience for passengers.
Aero+ Flexibility is the latest airborne application developed by Eclipse
While newer generation Ku and Ka band systems dramatically increase the amount of bandwidth available to airborne users, the bandwidth is provided in a single large "pipe" with no built-in ability to distinguish between which passengers and application will have access to the bandwidth.
By solving this issue and offering additional services, Aero+ Flexibility brings the user connectivity experience to a new era.
Aero+ Flexibility allows you to :
Create customizable aircraft "zones" to allocate bandwidth
Monitor onboard SATCOM system
Optimize data usage
Secure the onboard network by advanced filtering features (IP, devices, domains…)
Fall-back to Swift BroadBand network in case of Inmarsat GX service interruption
Create a credit card payment portal for passengers to access the internet
Customize the Aero+ Flexibility user interface for desktops, mobile, tablet devices (responsive design)
Prioritization :
Create multiple "zones" in the aircraft to manage onboard networks and prioritise the allocation of bandwidth. Each zone has its own management rules :
Bandwidth allocation
WAPs activation
MAC, IP and domain addresses filtering
Allocation / Customization :
The bandwidth assignment is managed by preconfigured bandwidth (ie 1024 kbps) and/or by adjustable percentage (ie 25% of the total bandwidth available). Upload and download speeds are customizable.
Security :
The Security tool of Aero+ Flexibility allows to edit and configure :
User Filtering : Control who can access the internet.
Device Filtering : Block unwanted devices.
Domain Filtering : Control what can be accessed.
Monitoring :
Aero+ Flexibility includes a monitoring tool focused on the following parameters :
Current system state
Current/historic bandwidth usage
Current zone activity
The diagnostics tool provides :
Network properties : ping and traceroute
System logs
Debug file (downloadable)
Remote access
In addition to edit zones and allocate bandwidth, the management tool allows to :
Configure zone function : portal, filters, etc.
Configure network settings : DHCP, DNS, etc.
Credit Card payment portal :
The payment portal delivered with Aero+ Flexibility allows the aircraft operator to sell instant access to the internet to its passengers. Fares, conditions of access, etc. are fully defined by the operator :
Configurable bundle sizes
Configurable bundle prices
Compatible with common VPN services
Multiple payment options accepted
The payment portal interface is customizable on demand.
Transactions use the latest encryption standards, SSL and Banks Security Protocols.
Aero+ Velocity
Improves Inmarsat SwiftBroadband system performance through channel aggregation
Aero+ Clarity and Aero+ Visibility
Enhances Voice over IP (VoIP) calls and offers high-quality videoconferencing
Aero+ Connectivity
Used to configure the aircraft network with the Aero+ Connectivity interface
Satcom Universal Mounting System (SUMS)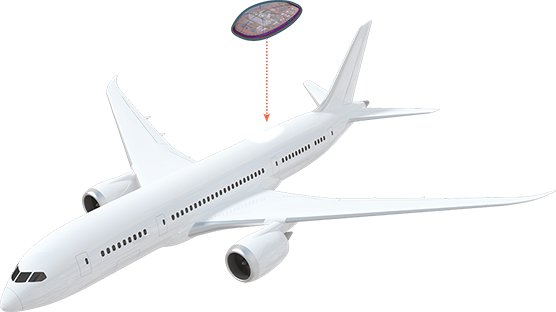 Proven solution : installed on 90 Head of State and other aircraft
A Proven Solution : SUMS is installed on 90 Head of State and other aircraft. With STCs for the most popular wide- and narrow-body aircraft types, SUMS offers many advantages over competitive offerings including :
Complete Ka-band antenna installation system, specifically engineered for wide- and narrow-body aircraft
Lightweight, less intrusive and 100% ARINC 791 compliant
Streamlined : fewer fuselage holes means straightforward removal
Save time, effort and cost : Light maintenance required following installation
Multiple STCs available : A319, A320, A321, A330, A340, B777, B747. 2019 : BBJ NG & MAX
A revolutionary new design for installing the JetWave ™ Ka-Band FMA Satcom System
Current generation Ka- and Ku-band satcom systems are allowing for far greater connectivity in the air. However, this technology comes with the complexities of fuselage-mounted very large antennas. Associated modifications can ultimately result in significantly increased fuel burn, limitation of airframe life, addition of costly and repetitive maintenance tasks, limitation of re-sale and/ or leasing options, and impact on long term service options.
Carefully sculpted bodywork : the SUMS baseplate is made of aluminium, while the radome is made from a composite material. The whole structure is lightweight and helps maintain the aircraft's performance.
Total weight : 69-78 kg, including baseplate, Honeywell ARINC 791 radome, skirt & fittings.
Dimensions : 2.6 m (l) x 1.1 m (w) x 0.4 m (h)
Materials : Composite, aluminium
Safe, modular : to address the customer's needs and specific uses, SUMS is available in ARINC 791 or "Top of Frames" installation. To preserve the aircraft's integrity, SUMS is delivered with structural reinforcements and associated fittings including skirt fairing assembly.
Easy to install, easy to maintain : SUMS installation requires only 150 man hours. Overall design offers easy access to LRUs for inspection and maintenance, and facilitates return to the original aircraft configuration. No structural doubler required : fewer part numbers, more efficiency.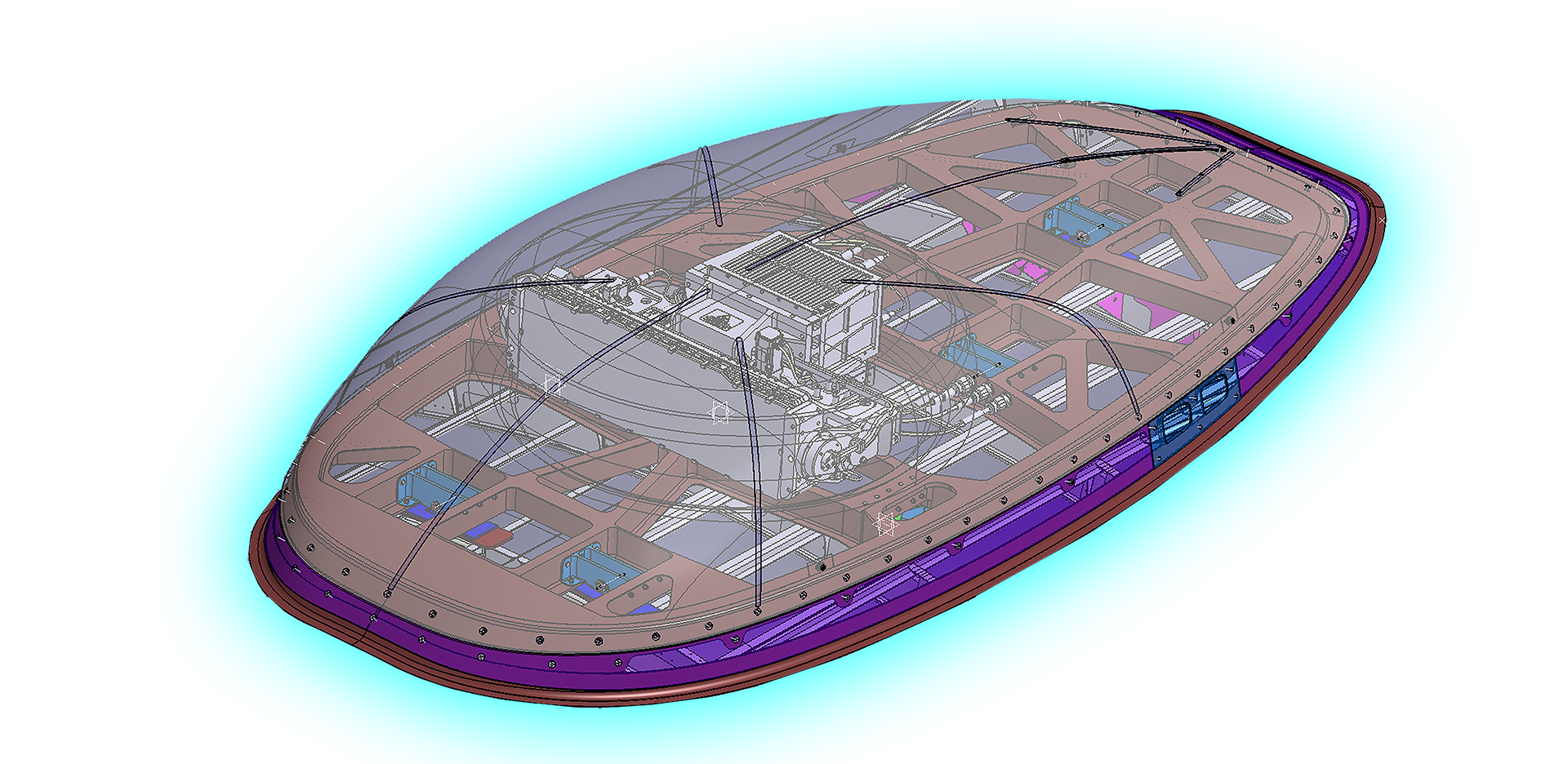 The Missing Piece of your Connectivity puzzle.